UT SCHOOL
To support the growing business development and need to employ mechanical and operator of heavy equipment for customers, the Company, through Yayasan Karya Bakti United Tractors runs educational programs that UT School. The program that began in 2008 continues to grow, so this time the UT School located in 19 regions of Indonesia, Medan, Pekanbaru, Palembang, Lampung, Jakarta, Semarang, Surabaya, Balikpapan, Banjarmasin, Samarinda, Batukajang, Sangata Bontang, Bendili, Site Adaro, Separi, Cape Redeb, Maksar, and Sorong.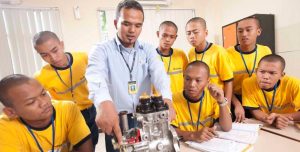 Following the vision of the UT School "to be the Best Mechanical Skills Education Institute and Operator of Heavy Equipment in the World", UT School has produced qualified graduates. Until now, UT School has graduated more than 24,000 graduates who have worked at UT and its subsidiaries as well as its customers.
All UT School programs are recognized by UT, the Association of Indonesian Heavy Equipment (AABI), the Association of Indonesian Heavy Equipment (HINABI), as well as other heavy equipment operators through the Indonesian Heavy Equipment Professional Certification Institute (LSP ABI).
UT SCHOOL
Jl. Raya Bekasi KM22
Jakarta 13910
Phone : +6221 4600566, 4600906
www.utschool.sch.id