Saturday, June 13, 2015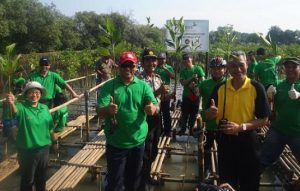 Jakarta: On Saturday, 13 June 2015, PT United Tractors Tbk (UT) together with its subsidiaries conducted mangrove planting and voluntary day at Pantai Muara Tawar, Marunda. The activity was attended by UT's Director, Bp. Edhie Sarwono; Department of Animal Husbandry, Fisheries and Maritime Affairs; Sectoral Police Chief, AKP Kunto Bagus; community leaders and villagers of Segara Jaya; UT group management; as well as UT group employees.
This activity is a manifestation of UT's commitment to build awareness and actively  participating in understanding the importance of environmental conservation. Historically, since 2012 until the end of 2014, UT group has planted about 91,000 mangroves in Jakarta, covering Pantai Muara Tawar as well as Cengkareng Ecotourism area. Mangrove planting target in 2015 is 50,000 trees, starting with 10,000 trees that were planted that day.
In 2012, a total of approximately 80.000 mangroves were planted by UT at Pantai Muara Tawar conservation area. Unfortunately, 50% of the mangroves failed to grow due to natural factors. The replanting of 10,000 mangroves was an effort of rehabilitation over the damage incurred to maintain the sustainability of Pantai Muara Tawar conservation area.
Voluntary Day
In addition to 10.000 mangroves planting, voluntary activities were also held on that day. A number of UT group employees were participating to conduct mosque renovation, cleaning up, fogging, as well as medical check-up and free medication for 120 Segara Jaya residents.