Thursday, June 26, 2014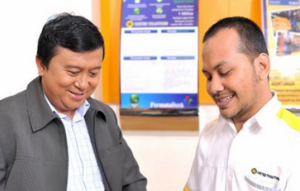 "PQC Express provides various benefits for customers, including non-collateral loan of working capital up to Rp. 250 million with 30-45 days tenor, free administration and prevision fees and no requirement for bank current account."
There are many small and medium entrepreneurs who cannot fulfill market demand due to limited working capital. Thus, PT United Tractors Tbk in cooperated with PT Bank Permata Tbk offered Permata Quick Cash (PQC) Express, a non-collateral financial facility, to provide benefits for entrepreneurs in expanding the businesses.
The non-collateral loan program is a very helpful financial facility in tackling people's funding needs for various goals among others working capital, business development, educational fees, property renovation, purchasing electronic devices, leisure and many more.
Based on the facts above, United Tractors offered solution for customers in running and even expanding the businesses by working with one of renowned banks in Indonesia, PermataBank. United Tractors and PermataBank provide Permata Quick Cash (PQC) Express, a non-collateral financial facility.
PQC Express provides various benefits for customers, including non-collateral loan of working capital up to Rp 250 million with 30-45 days tenor, free administration and provision fees and no requirement for bank current account.
The program also offers a lot of promotion such as 30% discount for each spare part purchase and minimum payment facility at 10% of total transaction in all United Tractors' outlet branches, sites and representatives in Indonesia. The payment may be delivered by ATM, mobile banking and internet banking in all banks in Indonesia.
For further information regarding the program, please contact our 24 hours UT Call customer service at 500-072, anytime and anywhere.