Tuesday, February 10, 2015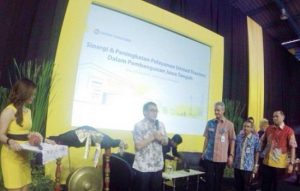 SEMARANG – On Tuesday, February 10th, 2015, PT United Tractors Tbk (UT) officially changes the status of UT's representative office in Semarang to become a branch office. The inauguration, which takes place at Raya Randu Garut Street Km 12, Tugu, Semarang, is attended by Governor of Central Java Province Ganjar Pranowo, UT's Director Edhie Sarwono, UT's Director Iman Nurwahyu, UT's management team and business partners.
UT Semarang is the Company's 20th branch office. The office building was established in 1982, and later on new building was build and officially inaugurated on June 9th, 1995 as the representative office. UT Semarang branch office covers all areas in Central Java that consist of 30 regencies and six cities. In addition, there are support points in Yogyakarta and Rembang.
UT Semarang branch office is standing on 19,289 m2 of land where the office facilities covers 860 m2, the workshop covers 40 m2, warehouse building covers 195 m2 and open store warehouse covers 143 m². The Semarang branch office is a two-storey building where the first floor is dedicated for office area and the second floor is a full facility UT School.
The inauguration of UT Semarang branch office shows the Company's commitment to synergize and improve its services hand-in-hand with the government in a bid to achieve infrastructure development programs in Central Java, and also improve its services for UT's customers in the province. The commitment is successfully realized due to the good collaboration between UT and financial institutions, banking, supplier partners, local government and society.
Moreover, the very existence of UT Semarang branch office is meant to secure UT's after sales service guarantee or renowned as UT Guaranteed Product Support (UT GPS) for the customers, which provides spare parts delivery, mechanics and maintenance lead time. UT also offers UT Mobile Support facility for purchasing heavy equipment spare parts that covers all operation areas in Central Java.