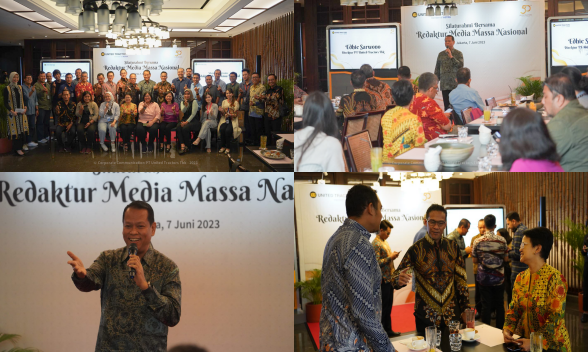 Jakarta, June 7th,2023 – To strengthen engagement with all stakeholders, PT United Tractors Tbk (UT) Group organized a media gathering with national media redactors at Menara Astra, Jakarta.
This event aims to strengthen relationship and as a form of appreciation to the media for positive news about the UT Group. In addition, to convey information regarding to UT Group's business development and sustainability initiatives.
The Director of United Tractors, Edhie Sarwono, explained in his speech that UT Group will always be committed to implementing sustainability principles and Environmental, Social and Governance (ESG) aspects in its business operations.
"In 2022, the UT Group has launched 10 Sustainability Aspirations for 2030 in hoping to generate added value for all stakeholders, as well as provide contributions and benefits to the Indonesian people," said Edhie Sarwono.
Also attending the event were Edhie Sarwono (Director of UT), Sara K. Loebis (Corporate Secretary of UT), Boy Gemino (Director of EPN), David Widjaja (Director of Acset), Tony S. Halim (Director of Turangga Resources), as well as PAMA Gunawan Setiadi (Security & External Relation Dept. Head) management representatives and Person In Charge Corcom representing the UT Group's business lines.
United Tractors' Overview
PT United Tractors Tbk (UT) which is known as the largest heavy equipment distributor in Indonesia has been established since 1972. Currently, UT has grown and has six business pillars, namely Construction Machinery, Mining Contracting, Coal Mining, Gold Mining, Construction Industry, and Energy. As its contributions to the achievement of Sustainable Development targets (SDGs). UT consistently carries out activities to uphold sustainability.
ESG United Tractors
As a world-class heavy equipment, mining and energy company with more than 50 years of experience in Indonesia, UT is committed to presenting a sustainable future for Indonesia through the effective application of ESG principles by paying attention to the environment, having a good impact on society, and upholding good corporate governance. good corporate governance at all levels of its business operations, as well as optimizing its competencies, expertise, and strategic assets to bring added value to all stakeholders and the Indonesian people.
For more information, please contact:
Sara K. Loebis
Head of Corporate Governance and Sustainability Division
PT United Tractors Tbk
Email : ir@unitedtractors.com
Address : Jl. Raya Bekasi Km.22 Cakung, Jakarta Timur 13910
Telp. : (62-21) 3511961, Fax : (62-21) 3441413
Medsos : IG (@unitedtractorsofficial & @ceritadi.ut)
Website: www.unitedtractors.com
LinkedIn: PT United Tractors Tbk