Jakarta, January 18th,2023 – PT United Tractors Tbk (UT) inaugurated virtual museum as a medium to capture the achievements and works of the Company for 50 years in Indonesia. The grand launching of virtual museum which took place in UT Head Office Ballroom, Wednesday (18/01), is a platform for all UT employees and public for introduction, learning, and experience related to UT's milestone in digital form which, is presented in an attractive and modern way.
"As a form of gratitude for the achievement of 50 years of work for Indonesia, UT has the goal of creating this virtual museum to communicate, protect, develop and utilize UT's historical heritage collections. However, with the current impact of Covid-19, this museum is made virtually, which still contains the values of UT, such as We serve Better, Solution, and Moving As One," said Sara K. Loebis, Head of Corporate Governance and Sustainability Division.
UT museum virtual is an innovation in response to the rapid development of technology. As a company that is agile towards change, UT continues to innovate not only in the business sector but in various ways, including presenting a virtual museum to showcase information related to history and the Company's development towards the future, which can be an inspiration for all the visitors.
The public who wants to visit the UT virtual museum can easily access https://virtualmuseum.unitedtractors.com via PC, laptop, tablet, or smartphone. With this, the UT virtual museum can reach more visitors, such as employees, investors, media, and the wider community.
The UT virtual museum presents a memory of the experiences and struggles of the founding fathers and all of those who have contributed from the inception of UT until today. In addition, there are various images from UT's early days to UT's dreams packed with various content, from photos and videos to 3D mockups.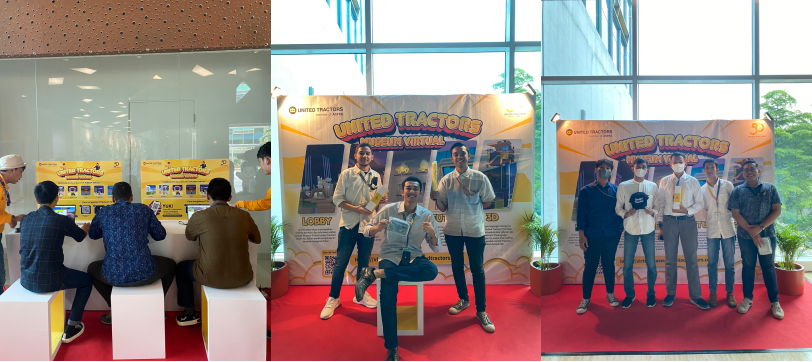 Virtual museum booth
For 50 years, there have been so many stories of struggle and positive contributions that UT has made to Indonesia. In the future, public and UT employees will also gain knowledge about the background of making important several decisions, the journey to build competencies and management systems, to strategies for getting through crisis, all of which are still relevant to be applied in today's conditions. The development of this museum was inspired by the book entitled "Bakti Kami Membangun Negeri" and UT's Annual Report from 1989 to 2021.
Through this virtual museum, UT hopes to motivate many parties through stories of sacrifices, success, and a long history that contains many lessons for UT personnel and the wider community.
United Tractors' Overview
PT United Tractors Tbk (UT) which is known as the largest heavy equipment distributor in Indonesia has been established since 1972. Currently, UT has grown and has six business pillars, namely Construction Machinery, Mining Contracting, Coal Mining, Gold Mining, Construction Industry, and Energy. As its contributions to the achievement of Sustainable Development targets (SDGs). UT consistently carries out activities to uphold sustainability.
ESG United Tractors
As a world-class heavy equipment, mining, and energy company with more than 50 years of experience in Indonesia, UT is committed to presenting a sustainable future for Indonesia through the effective application of ESG principles by paying attention to the environment, having a good impact on society, and upholding good corporate governance. good corporate governance at all levels of its business operations, as well as optimizing its competencies, expertise, and strategic assets to bring added value to all stakeholders and the Indonesian people.
For more information, please contact:
Sara K. Loebis
Head of Corporate Governance and Sustainability Division
PT United Tractors Tbk
Email : ir@unitedtractors.com
Address : Jl. Raya Bekasi Km.22 Cakung, Jakarta Timur 13910
Telp. : (62-21) 3511961, Fax : (62-21) 3441413
Medsos : IG (@unitedtractorsofficial & @ceritadiut)
Website: www.unitedtractors.com