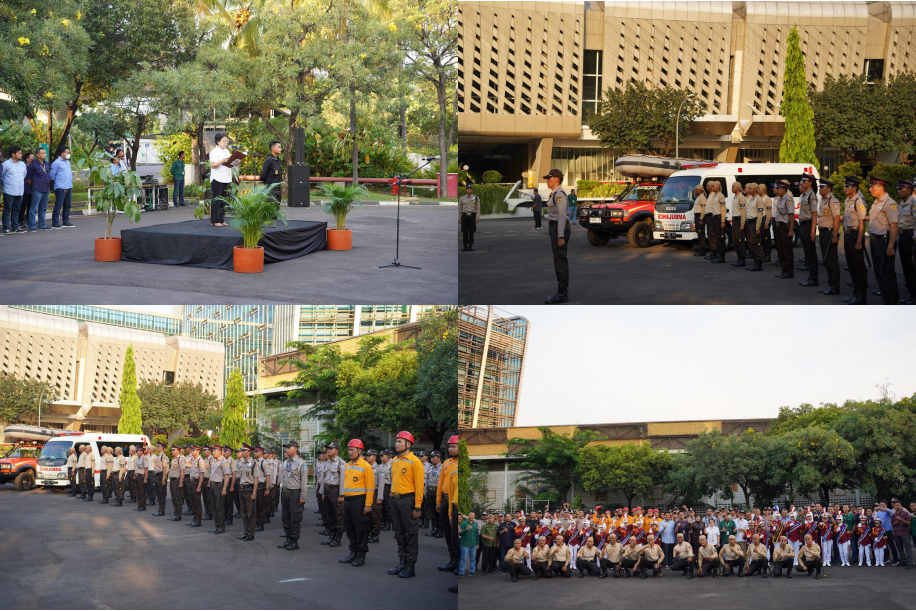 Jakarta, April 17th,2023 –  Astra Heavy Equipment, Mining, Construction & Energy (AHEMCE) Group recently held the 2023 AHEMCE Security Readiness Inspection with the Emergency Response Team (TKTD), which took place at the UT Head Office exhibition area on Monday (17/04/2023).
This activity was carried out with the aim to anticipate two upcoming important events namely Eid Al-Fitr 1444 H and National Labor Day on 1 May 2023. Head of Corporate Sustainability and Governance UT, Sara K. Loebis, in her speech conveyed the importance of Security alertness over any potential threats, in order to prepare mitigation as early as possible to ensure the Company's operations.
"All AHEMCE Security forces are urged to synergy in order to maintain secure and safe working environments, while continuing inter companies coordination, stakeholders communication, and updated information through networks, social media and other reliable sources," said Sara K. Loebis.
In addition, Sara K. Loebis also gave highest appreciation to all AHEMCE Security for their commitment in improving their corporate security competence and providing the best service for the Company. It is hoped that AHEMCE Security may continue to strive and record their best achievements each year.
United Tractors' Overview
PT United Tractors Tbk (UT) which is known as the largest heavy equipment distributor in Indonesia has been established since 1972. Currently, UT has grown and has six business pillars, namely Construction Machinery, Mining Contracting, Coal Mining, Gold Mining, Construction Industry, and Energy. As its contributions to the achievement of Sustainable Development targets (SDGs). UT consistently carries out activities to uphold sustainability.
ESG United Tractors
As a world-class heavy equipment, mining and energy company with more than 50 years of experience in Indonesia, UT is committed to presenting a sustainable future for Indonesia through the effective application of ESG principles by paying attention to the environment, having a good impact on society, and upholding good corporate governance. good corporate governance at all levels of its business operations, as well as optimizing its competencies, expertise, and strategic assets to bring added value to all stakeholders and the Indonesian people.
For more information, please contact:
Sara K. Loebis
Head of Corporate Governance and Sustainability Division
PT United Tractors Tbk
Email : ir@unitedtractors.com
Address : Jl. Raya Bekasi Km.22 Cakung, Jakarta Timur 13910
Telp. : (62-21) 3511961, Fax : (62-21) 3441413
Medsos : IG (@unitedtractorsofficial & @ceritadi.ut)
Website: www.unitedtractors.com
LinkedIn : PT United Tractors Tbk