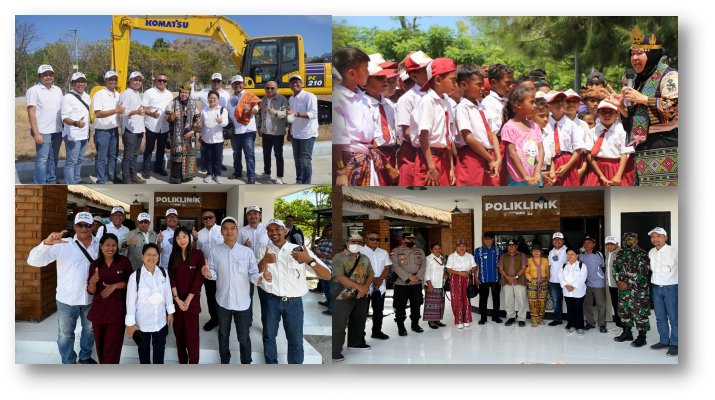 Wini, September 17th,2022 – PT United Tractors Tbk (UT) and PT Pamapersada Nusantara (PAMA) collaborated with the Indonesian Ministry of Social Affairs in the management and recovery of post-disaster areas in Wini, North Central Timor Regency (TTU), East Nusa Tenggara Province (NTT).
UT and PAMA handed over assistance in the form of one unit Komatsu PC210-10M0 Excavator, Health Polyclinic, as well as a Community Center to support the post-disaster recovery of Wini, which is located at the border between Indonesia and Timor Leste.
This collaboration is in line with the 2022 Pillar of G20 Indonesian Presidency, i.e. strengthening the scope of partnerships and as a strategic step in developing 3T (Front, Outermost, Disadvantaged) Regions.
"This collaboration is the realization of the Company's commitment to support the government's agenda in strengthening regional and community development in the 3T area," said UT's Corporate Governance and Sustainability Head, Ms. Sara K Loebis.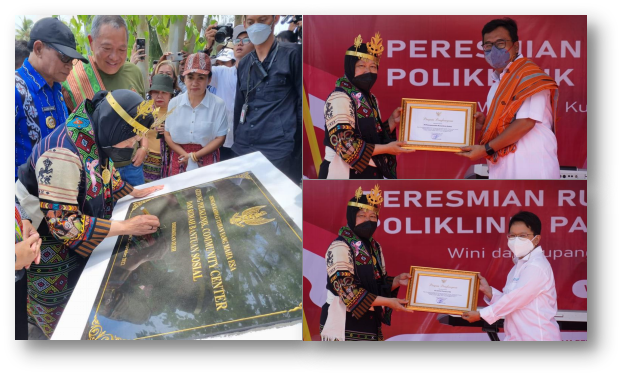 Ms. Sara Loebis added that through the Company's humanitarian program, UT has contributed to 8 other regions for post-disaster recovery. This is the Company's effort in realizing UT's sustainability aspirations to deliver good impacts on the surrounding community.
In addition to the delivery and inauguration of post-disaster support, UT and PAMA also participated in cataract surgery for local residents at the new Polyclinic.
The Regent of TTU, Juandi David, expressed his appreciation for the great attention that UT and PAMA had given to the people of TTU.
"These various donations are the most beautiful gifts for TTU, which is celebrating its 100th anniversary," Juandi David said in his speech.
The Minister of Social Affairs of the Republic of Indonesia, Tri Rismaharini, witnessed this collaborative activity firsthand. This event was attended by the Director of PAMA, Ari Sutrisno; PAMA's ESR Division Head, TH. Puguh Sasetyo; SRCOM Department Head UT, Himawan Sutanto; PAMA's CSR Department Head, Maidi Irvan; YKBUT Management representative, Dian Wahyu; and the Head of the UT Polyclinic, Nuralip M.