UT's Mangrove Rehabilitation Program in Collaboration with the Manado Provincial Government and Non-Governmental Organization Manengkel Solidaritas to Maintain Mangrove Ecosystems in Bahowo Village, Bunaken District, North Sulawesi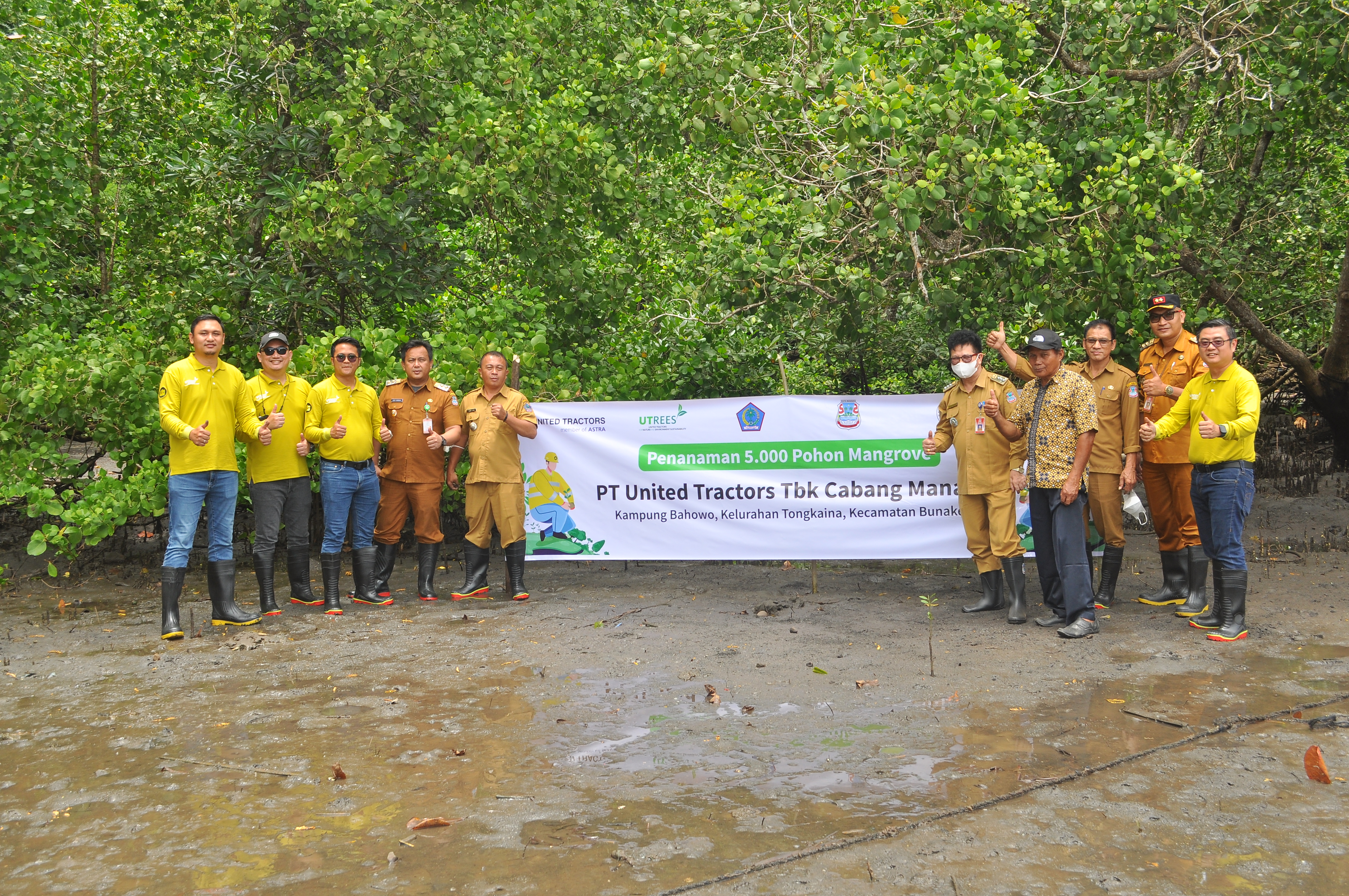 Manado, September 27th,2022 – PT United Tractors Tbk (UT) invited the Mayor of Manado, Andrei Angouw to rehabilitate mangrove forests by planting 5,000 trees as a form of maintaining the existing ecosystem in Bahowo Village, Bunaken Daratan District, Manado City, North Sulawesi Province. This program is the Company's commitment to continue the contribution to supporting sustainable business practices through the Environmental CSR program (UTREES) and is a follow-up to the target of planting 50,000 trees in celebration of the 50th anniversary of UT.
"Our target to plant 50 thousand trees is the Company's initiative to contribute to creating low carbon emissions. This program is in line with our commitments to create a sustainable business," said Chandra Kosasi as Head of UT's Sales Operations Division.
The mangrove rehabilitation program, the result of a collaboration between United Tractors and the Manado Provincial Government as well as the Manengkel Solidarity Non-Governmental Organization (NGO), aims to minimize the impact of air pollution because mangrove forests are an effective carbon storage place.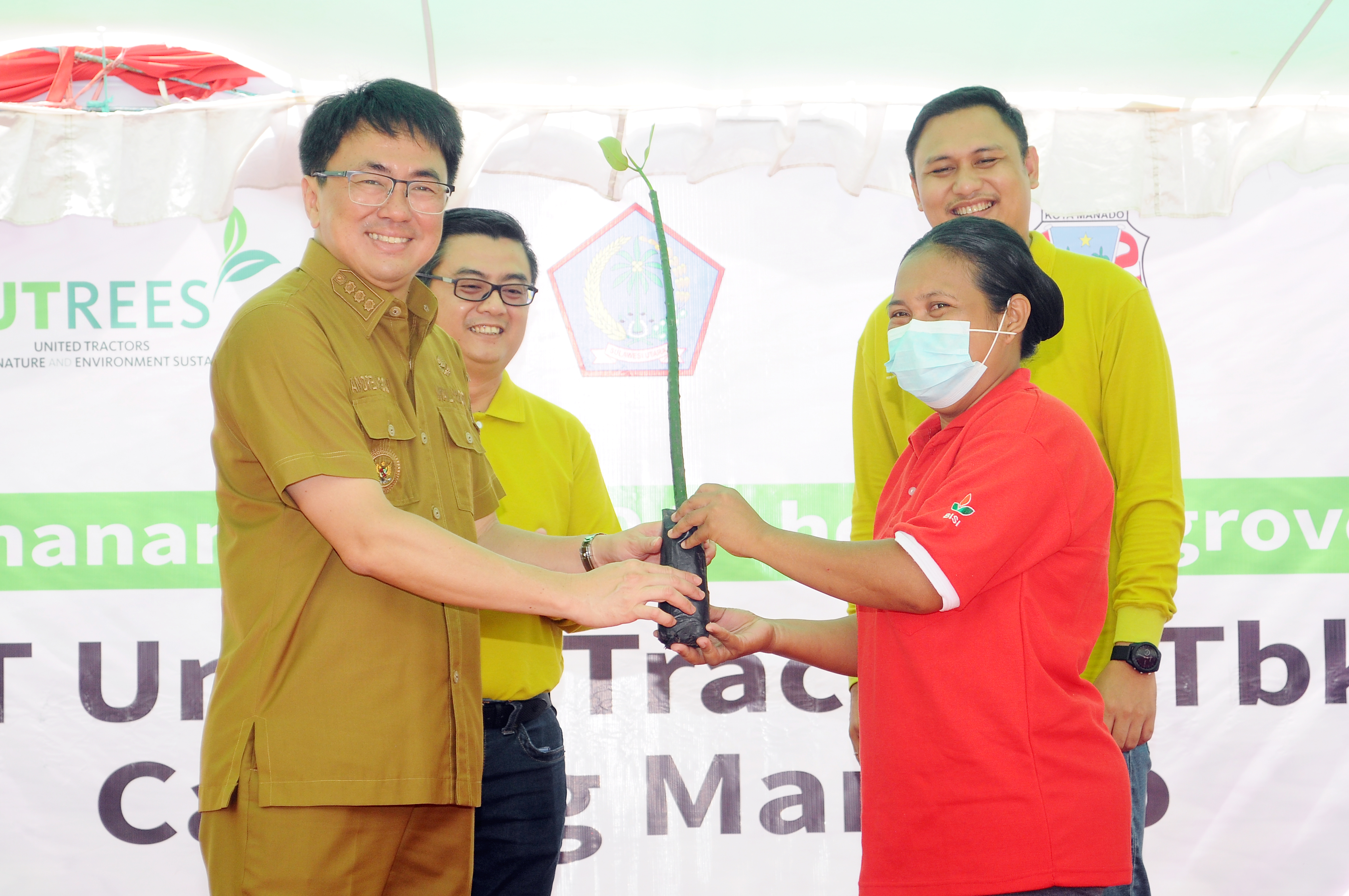 Bahowo Village, located on the coast of Manado City, has 84 hectares of a mangrove forest ecosystem. At least, there are 389 locals depend on mangrove forest resources. Therefore, United Tractors aims to continue to contribute positively to the environment through the implementation of ESG (Environment, Social, and Governance) and as a form of the Company's commitment to ensuring sustainable value for residents for the future.
"I really appreciate the mangrove planting activity in Bohowo village which was initiated by United Tractors. Hopefully, this rehabilitation will continue in the future because we will develop Bahowo Village as a tourism village which is a source of income for the people here," The Mayor of Manado, Andrei Angouw, said in his speech.
In addition to the Mayor of Manado, UT also invited the surrounding community to attend the mangrove planting. Through this program, UT hopes to improve the environmental sustainability of the Company's surrounding area to prevent climate change and enhance the welfare of residents who utilize mangrove forest resources to support their daily lives.
United Tractors' Overview
PT United Tractors Tbk (UT) which is known as the largest heavy equipment distributor in Indonesia has become a public company and has been established since 1972. Currently UT has grown and has six business pillars, namely Construction Machinery, Mining Contracting, Coal Mining, Gold Mining , Construction and Energy Industry. As one of UT's contributions to the achievement of the Sustainable Development targets (SDGs), UT consistently carries out activities that uphold sustainability in the five program pillars, namely Education (UTFUTURE), Health (UTCARE), Environment (UTREES), Society Economic Development (UTGROWTH). ), and Disaster Management (UTACTION).
For more information, please contact:
Sara K. Loebis
Head of Corporate Communication Division
PT United Tractors Tbk
Email    : ir@unitedtractors.com
Alamat : Jl. Raya Bekasi Km.22 Cakung, Jakarta Timur 13910
Telp.     : (62-21) 3511961, Fax : (62-21) 3441413
Medsos : IG (@unitedtractorsofficial & @ceritadiut)
Website: www.unitedtractors.com