September 12th, 2022 – Jakarta
PT United Tractors Tbk (the "Company" or "UT") today delivered an online Public Expose in a series of Public Expose Live 2022 events organized by the Indonesia Stock Exchange (IDX). Attended by UT Board of Directors, including Iman Nurwahyu, Iwan Hadiantoro, Edhie Sarwono, and Idot Supriadi, the Company conveyed its business development initiatives, financial performance in the first half of 2022, operational performance until July 2022, as well as ESG and corporate social responsibility programs.
"In addition to the Company's business achievements, we also pay greater attention to UT's diversification strategy to realize sustainable business. One of them is by adding to the Company's portfolio in New Renewable Energy (EBT) business sector," said Iwan Hadiantoro.
In line with the sustainability objectives of UT's parent company, the Company has determined 10 Sustainability Aspirations which serve as guidelines for all UT Personnel so that they can make more significant contributions and have impacts both on the environment and the future of the nation and state. The Company's aspiration for sustainability is UT's commitment to supporting the government's target of reducing emissions.
Company's Financial Performance
During the first semester of 2022, Company posted a net income of Rp60.4 trillion, an increase of 62% from Rp37.3 trillion in the same period in 2021. Along with the increase in net income, the Company's net profit increased 129% to Rp10.4 trillion from what previously amounted to Rp 4.5 trillion.
Each business segment, namely: Construction Machinery, Mining Contracting, Coal Mining, Gold Mining, and Construction Industry, contributed 29%, 33%, 31%, 6%, and 1%, respectively, to the total consolidated net income.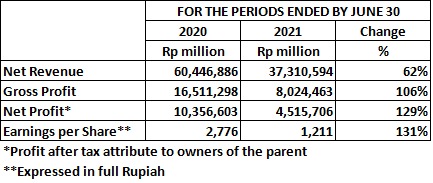 Construction Machinery Business Segment
As of July 2022, the Construction Machinery business segment recorded an increase in sales of Komatsu heavy equipment by 117% to 3,399 units, compared to the same period last year of 1,564 units. Based on internal market research, Komatsu leads the heavy equipment market share with 28%. UD Trucks' sales decreased from 303 units to 295 units, and Scania's product sales fell from 393 units to 123. The decline in sales for both brands was due to product supply constraints.
Until the first semester of 2022, the Company's revenue from selling spare parts and equipment maintenance services increased by 36% to Rp 4.8 trillion. In total, net income from the Construction Machinery business segment increased by 86% to Rp17.4 trillion compared to the same period in 2021.
Mining Contracting Business Segment
The Mining Contracting business segment operates by PT Pamapersada Nusantara (PAMA). During the first semester of 2022, Mining Contractors posted a net income of Rp20.0 trillion, up 29% from Rp15.4 trillion in the previous year.
Until July 2022, PAMA recorded a decrease in coal production volume by 12%, from 68.9 million tons to 60.6 million tons. Meanwhile, the importance of overburden removal increased by 7%, from 485.7 million BCM to 519.2 million BCM, with an average stripping ratio of 8.6x, up from 7.0x.
Coal Mining Business Segment
The Coal Mining business segment is run by PT Tuah Turangga Agung (TTA). As of July 2022, total coal sales reached 6.6 million tons, including 1.5 million tons of metallurgical coal, or decreased by 8% compared to the same period in 2021 of 7.1 million tons due to the presence of a temporary export ban in January 2022. However, revenue from the Coal Mining business segment in the first half of 2022 increased by 149% to Rp18.7 trillion due to an increase in the average selling price of coal.
Gold Mining Business Segment
PT Agincourt Resources runs the Gold Mining business segment run by (PTAR), which operates the Martabe gold mine in South Tapanuli, North Sumatra. As of July 2022, the total sales of gold equivalent from Martabe reached 168 thousand ounces, a decrease of 17% from 204 thousand ounces in the same period in 2021 due to the reduction in the gold content. In the first half of 2022, the net income of the Gold Mining business segment decreased by 10% from Rp 4.3 trillion to Rp 3.9 trillion, with an average selling price of gold of USD1,873 per ounce, an increase of 8% from USD1,730 per ounce in the same period last year.
Construction Industry Business Segment
PT Acset Indonusa Tbk (ACSET) runs the Construction Industry business segment. As of June 2022, the Construction Industry posted a net income of Rp476 billion, from Rp636 billion in the same period in 2021. ACSET posted a net loss of Rp114 billion, a decrease compared to a net loss in the same period last year of Rp153 billion. The net loss was mainly due to the slowdown in several ongoing projects and the reduction in new contracts obtained due to the impact of the pandemic.
Energy Business Segment
In line with the business development strategy in the environmentally friendly energy sector, the Company has established the New and Renewable Energy business as one of the Company's transition strategies. To accelerate NRE development, by the end of 2021, all energy businesses in the Group will consolidate through PT Energia Prima Nusantara (EPN). As of June 2022, EPN has installed Rooftop Solar PV in several facilities within the Company and Astra groups, reaching 6.9 MWp. Throughout 2022, EPN targets additional installations of new Rooftop Solar PV of 15 MWp, which will increase in the following year.
The Company currently operates one Mini Hydro Power Plant (PLTMH), namely Kalipelus PLTMH, with a capacity of 0.5 MW in Central Java. It is building another mini-hydro power plant, namely Besai Kemu PLTMH in Lampung, Sumatra. Besai Kemu PLTMH has a total of 7 MW and is expected to operate in 2023. In addition, the Company is also targeting several mini-hydropower projects in the Sumatra area with a total potential capacity of more than 20 MW.
The Company is also actively conducting studies and reviews on other renewable energy projects such as large-scale hydropower projects, floating solar PV, geothermal, wind power, and waste-to-energy. These projects are consistent with UT's strategy to increase competence in various renewable energy potentials to achieve a sustainable business portfolio.
In strengthening United Tractors' position in the sustainable business, the Company invested in PT Arkora Hydro Tbk (Arkora) with share ownership of 31.49%. Arkora currently operates two PLTMs, PLTM Cikopo 2 in West Java with a capacity of 7.4 MW and PLTM Tomasa 10 MW in South Sulawesi. Arkora is also building two PLTMs, namely PLTM Koro Yaentu with a total of 10 MW and PLTM Kukusan 2 with a capacity of 5.4 MW.
Concerning the Company's shares, namely UNTR, on July 12, 2022, the Company submitted an information disclosure regarding the buyback of UNTR shares with a maximum purchase value of Rp5 trillion. The repurchase of the Company's shares will be carried out in stages for a period of 3 months, starting from July 13 to October 12, 2022.
Corporate Sustainability Aspirations
As a company that prioritizes sustainability practices and ESG implementation in its business processes, UT has launched its 2030 sustainability aspiration, which includes the Group's commitment to transition into a more sustainable and resilient business that positively impacts climate, business, and society.
UT's sustainability aspirations are contained in 10 initiatives, namely Reducing Greenhouse Gas Emissions, Energy Management, Water Management, Solid Waste Management, Diversity, Equality, and Inclusivity in Employees, Employee Health and Safety, Community Development, Business Model Resilience, Diversity and Inclusiveness of the Board of Directors and Good Corporate Governance.
To help reduce greenhouse gas emissions, UT and principals launched environmentally friendly products, including the Komatsu HB HB365-1, the first 30-ton class hybrid excavator in Indonesia, UD Trucks Quester Euro 5 with Selective Catalytic Reduction (SCR) technology. Scania Truck Euro 4 has 5 (five) advantages, including Selective Catalytic Reduction (SCR) technology, Fuel Efficiency, B30-B100 Fuel Use, Safety, and Comfort; to realize a sustainable and environmentally friendly Indonesian transportation system by reducing exhaust emissions.
As one of the Company's contributions to achieving sustainable development targets (SDGs), the Company consistently implements Social Responsibility programs that are engaged in education, health, environment, community economic empowerment, and disaster emergency response.