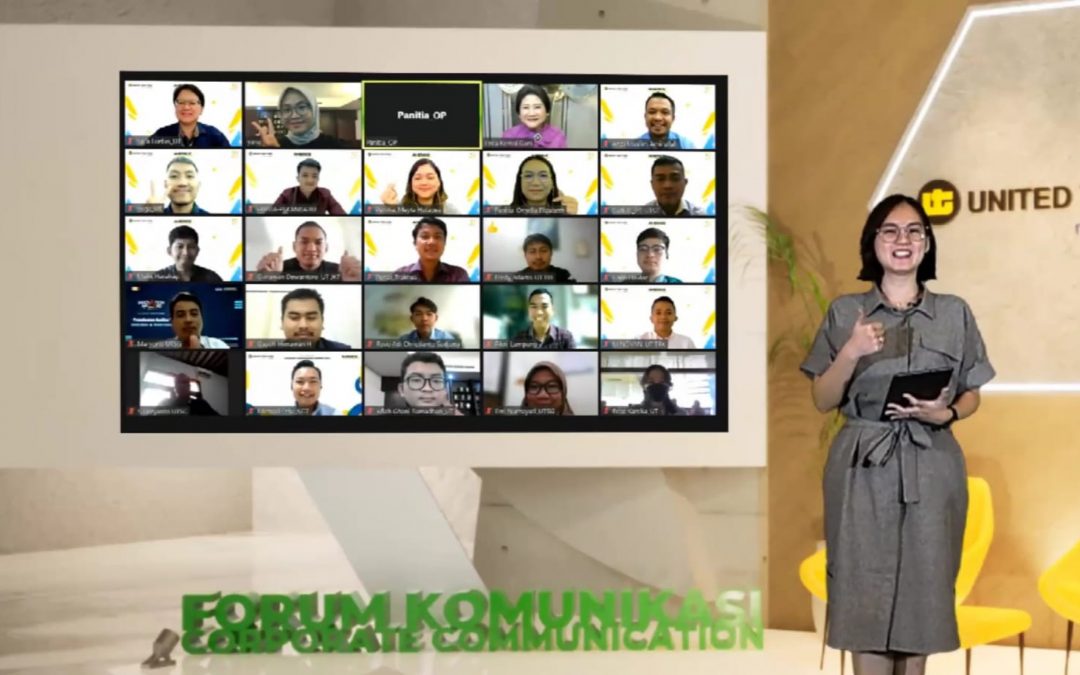 Jakarta, December 20th,2022 – In line to build a strong vision through corporate communication, PT. United Tractors Tbk (UT) is holding AHEMCE Corporate Communication Forum 2022 with the theme "The Importance of Crisis Communication Strategy to Preserve Corporate Reputation". The purpose of holding this forum as a means of capacity building and coordination of Persons in Charge (PIC) Corcom AHEMCE in accelerating and uniforming information related to crisis communication management for all AHEMCE business lines.
The forum began with management remarks regarding company information by the Head of Corporate Governance and Sustainability Division UT, Sara K. Loebis regarding biodiversity conservation policies, publication of environmental activities (biodiversity) by the AHEMCE group, and public surveys regarding Environmental, Social, and Governance (ESG) and public satisfaction with the CSR programs that UT has implemented.
The speaker presented at this event was Dr. (H.C.) Prita Kemal Gani, MBA, MCIPR, APR, FIPR as the Founder & CEO of LSPR Communication and Business Institute Indonesia by presenting several materials related to communication crisis management strategies and steps to restore credibility after a crisis.
Maintaining the company's image and reputation has become a special concern for UT. In the Astra Communications Management System (ACMS), Corcom is responsible for preventing and handling crises that occur in the company. For this reason, AHEMCE 2022 communication forum was held to implement an effective crisis communication strategy for the UT Group.
Through this forum, it is hoped that the entire AHEMCE group can maintain and build a positive image through the management and monitoring of structured information and communication by providing the best service to stakeholders.
At this event, UT gave awards to the AHEMCE group Corcom through the "2022 Corcom Appreciation" with the awardees as follows: an appreciation for the implementation of ACMS was given to PT Acset Indonusa Tbk and PT United Tractors Pandu Engineering. 1st place for the best communication program was won by UT Tarakan Branch, 2nd place for the best communication program was won by UT Banjarmasin Branch, and the best communication program award was given to UT Site Loreh and UT Site Tanjung redeb.
This activity was attended by all communication PIC from AHEMCE group companies, including PT United Tractors Tbk, PT Bina Pertiwi, PT United Tractors Pandu Engineering, PT Pamapersada Nusantara, PT Tuah Turangga Agung, PT Traktor Nusantara, PT Acset Indonusa Tbk, PT United Tractors Semen Gresik, PT Komatsu Remanufacturing Asia, PT Energia Prima Nusantara, PT Kalimantan Prima Persada, PT Agincourt Resources, and the Karya Bakti UT Foundation.
United Tractors' Overview
PT United Tractors Tbk (UT) which is known as the largest heavy equipment distributor in Indonesia has been established since 1972. Currently, UT has grown and has six business pillars, namely Construction Machinery, Mining Contracting, Coal Mining, Gold Mining, Construction Industry, and Energy. As its contributions to the achievement of Sustainable Development targets (SDGs). UT consistently carries out activities to uphold sustainability.
ESG United Tractors
As a world-class heavy equipment, mining, and energy company with more than 50 years of experience in Indonesia, UT is committed to presenting a sustainable future for Indonesia through the effective application of ESG principles by paying attention to the environment, having a good impact on society, and upholding good corporate governance. good corporate governance at all levels of its business operations, as well as optimizing its competencies, expertise, and strategic assets to bring added value to all stakeholders and the Indonesian people.
For more information, please contact:
Sara K. Loebis
Head of Corporate Governance and Sustainability Division
PT United Tractors Tbk
Email : ir@unitedtractors.com
Address : Jl. Raya Bekasi Km.22 Cakung, Jakarta Timur 13910
Telp. : (62-21) 3511961, Fax : (62-21) 3441413
Medsos : IG (@unitedtractorsofficial & @ceritadiut)
Website: www.unitedtractors.com