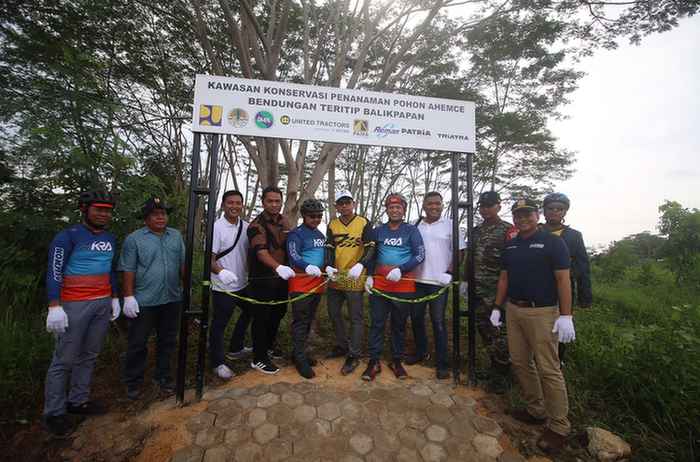 Balikpapan, December 30th,2022 – At the end of 2022, PT United Tractors Tbk (UT) resolidify their intention to positively contribute to the environment. Last Friday (30/12), along with subsidiaries, PT Pamapersada Nusantara (PAMA), PT Komatsu Remanufacturing Asia (KRA), PT Triatra Sinergia Pratama (TRIATRA), and PT United Tractors Pandu Engineering (UTPE), the group are planting trees in Balikpapan Teritip Dam conservation area.
This program is an initiative from UT Group, a world-class distributor of heavy equipment, mining, and energy, for over 50 years, to actively contribute to preventing extreme climate changes and to create a better future for the environment in Indonesia.
UT is committed to deliver a positive contribution to reducing carbon emissions by planting trees to help create a sustainable environment. This reforestation is part of the group's effort to implement Environmental, Social, and Governance (ESG) aspects in the Company's operational areas.
UT Balikpapan Branch Operation Head, Badrun Radhi affirmed that sustainable initiatives are part of the Company's operational responsibility, both in the headquarters and in all branch offices across Indonesia. The reforestation is aimed to help achieve effective carbon absorption.
"Planting trees, not only helps with carbon emission absorption but also provides added benefit for the surrounding community when the planted trees bear fruit. This is why, UT Group and the surrounding community together need to protect and preserve the environment at the Teritip Dam in Balikpapan, said Badrun Radhi.
At the event, UT Group introduced various sustainable initiatives for the environment through UT's environmental CSR (UTREES). UT will be involving the surrounding community and Balikpapan Teritip Dam management in maintaining the area. By ensuring the planted trees could grow to produce fruits, the program will also have a direct positive economic impact for the surrounding community. The Company has also placed an evaluation period of two to three years as one of the main agendas in the environmental preservation efforts.
Furthermore, UT is carrying out green energy transformation and transition initiatives, as well as implementing leading environmentally friendly technological approaches through products, services, and business processes, to generate sustainable added value. This reforestation program is one of the group's efforts to continuously reduce carbon emissions in Balikpapan area.
Being the community's source of water supply for their daily lives, this is one of the main reasons UT Group chose Balikpapan Teritip Dam, in the hopes of providing sustainable and maximum benefits for the community.
Through this program, UT is committed to providing positive contributions to both society and environment, through all business and operational activities that prioritize green economy and sustainable principles and effectively providing benefits and adding value for all stakeholders, as well as communities across Indonesia.
United Tractors' Overview
PT United Tractors Tbk (UT) which is known as the largest heavy equipment distributor in Indonesia has been established since 1972. Currently, UT has grown and has six business pillars, namely Construction Machinery, Mining Contracting, Coal Mining, Gold Mining, Construction Industry, and Energy. As its contributions to the achievement of Sustainable Development targets (SDGs). UT consistently carries out activities to uphold sustainability.
ESG United Tractors
As a world-class heavy equipment, mining, and energy company with more than 50 years of experience in Indonesia, UT is committed to presenting a sustainable future for Indonesia through the effective application of ESG principles by paying attention to the environment, having a good impact on society, and upholding good corporate governance. good corporate governance at all levels of its business operations, as well as optimizing its competencies, expertise, and strategic assets to bring added value to all stakeholders and the Indonesian people.
For more information, please contact:
Sara K. Loebis
Head of Corporate Governance and Sustainability Division
PT United Tractors Tbk
Email : ir@unitedtractors.com
Address : Jl. Raya Bekasi Km.22 Cakung, Jakarta Timur 13910
Telp. : (62-21) 3511961, Fax : (62-21) 3441413
Medsos : IG (@unitedtractorsofficial & @ceritadiut)
Website: www.unitedtractors.com