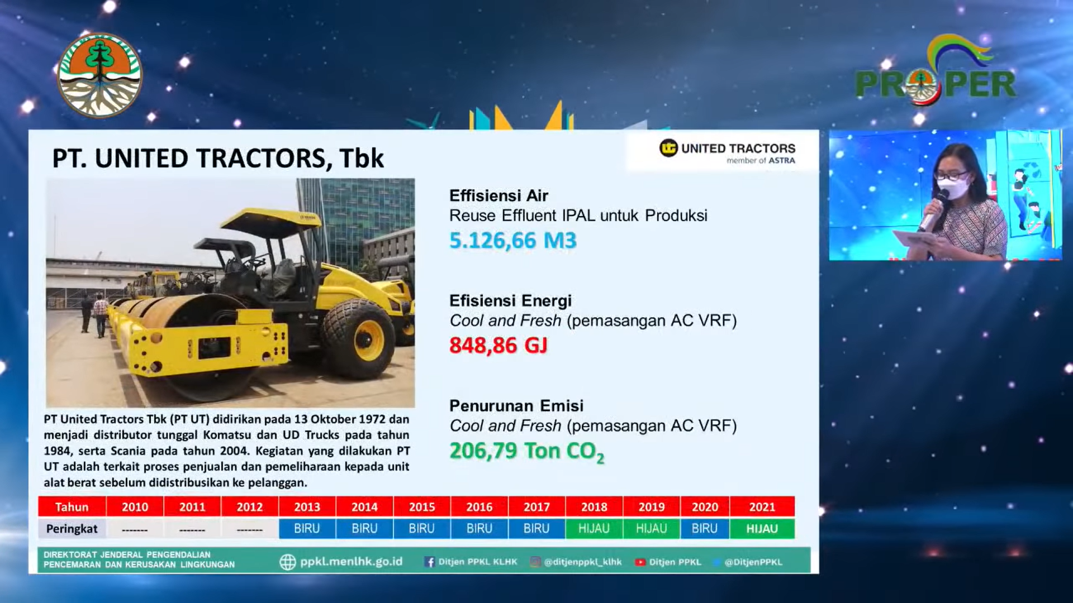 Jakarta – Tuesday, December 28, 2021, PT United Tractors Tbk (UT) won a green rank at the Awarding Night for the Corporate Performance Rating in Environmental Management (PROPER) for the 2020-2021 period. The award was handed over by the Minister of Environment and Forestry (LHK) online through the YouTube channel of the Directorate General of Pollution and Environmental Damage Control.
PROPER is one of the leading programs from the Indonesian Ministry of Environment and Forestry (KLHK) which was developed in 2002 with aim of encouraging the company compliance level in environmental management as well as innovation in natural resource management and community empowerment around the company's location. PROPER evaluation mechanism is divided into two types, namely field verification evaluation and self-assessment mechanism.
There were 2,593 companies that participated in the Proper rating assessment. 645 companies got red rank, 1,670 companies got blue rank, 186 companies got green rank and 47 companies successfully got gold rank.
Companies with Gold and Green rank are considered complied with laws and regulations, such as implementing environmental documents/ environment studies, controlling water pollution, controlling air emissions, and managing Hazardous and Toxic (B3) waste. In addition, the company has also implemented a good environmental management system, implemented an innovative program to use energy resources efficiently, reduce greenhouse gas emissions, conserve water, utilize and reduce B3 waste. Companies with Gold and Green rank also means that they has carried out waste management, biodiversity protection, and community empowerment efforts well.
Apart from UT, another UT Group company that has won the Green PROPER is PT Asmin Bara Bronang (ABB). ABB is one of UT's coal concession companies that produces premium grade coal that is environmentally friendly.