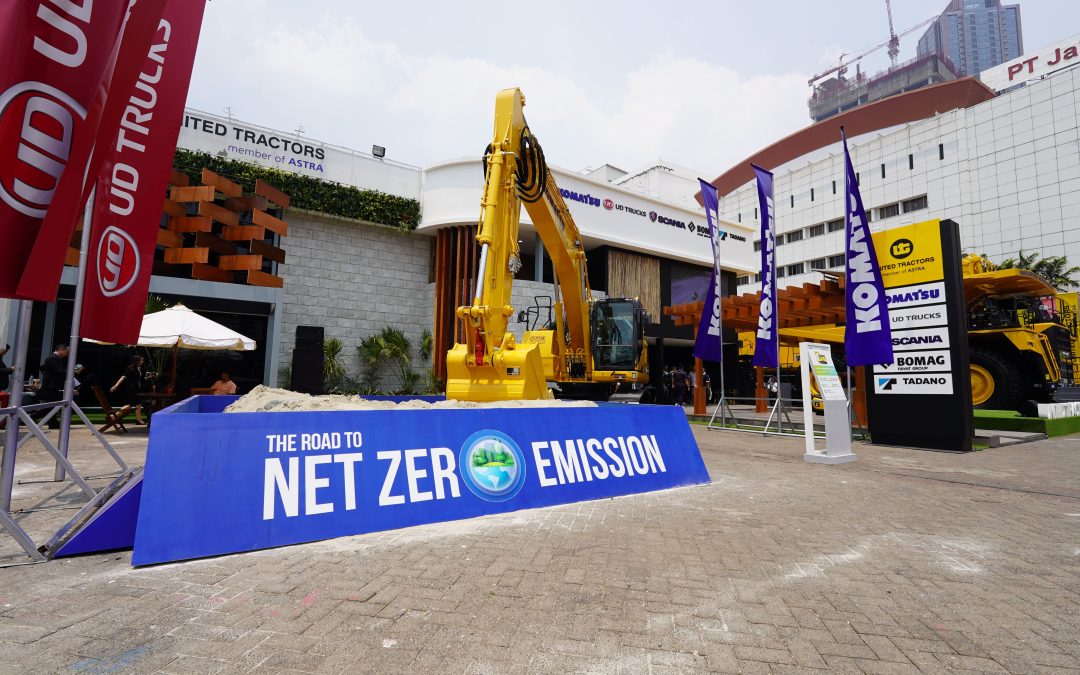 Jakarta, September 13, 2023 – As a manifestation of its commitment to achieving a carbon-free Indonesia, PT United Tractors Tbk (UT) introduced the New 20 Ton Class Electric Excavator product at the Mining Indonesia 2023 exhibition, located at the Jakarta International Expo (JIExpo) in Kemayoran, Central Jakarta. This concrete step is UT's effort to support the Indonesian Government's target of achieving Net Zero Emissions by 2060.
UT is a company and distributor of heavy machinery under the Komatsu brand in Indonesia. Komatsu, as a manufacturer, consistently brings sustainable and environmentally-friendly products. In 2005, Komatsu first introduced the Wired Electric Excavator for the 13-20 ton class. Then, in 2020, they launched the Mini Excavator Battery Electric, and in 2022, Komatsu introduced its first hybrid excavator for the 30-ton class, the HB365-1. This year, Komatsu continues to consistently create innovations and new breakthroughs by introducing the New 20 Ton Class Electric Excavator, which will be tested in Indonesia.
The New 20 Ton Class Electric Excavator offers several advantages, including net zero emissions, safety, and operational comfort that can be used across various sectors. Additionally, this product is supported by Komtrax features and technology, which is a telematics technology for wireless-based monitoring of Komatsu heavy machinery accessible from anywhere and anytime through computers or mobile phones.
The electric excavator operates using electric power for excavation and material movement. Furthermore, this product does not use internal combustion engines like conventional excavators that rely on fossil fuels. The electric power source for the electric excavator is stored in batteries that receive electric power from an external source, such as the National Power Company (PLN) or generators through portable charging tools or stationary charging.
The key component of this product is an electric motor that receives power from the battery to drive the hydraulic main pump. Other hydraulic components control various movements such as the boom, arm, bucket, forward and reverse travel, and swinging (similar to conventional excavators). In terms of maintenance, this product is easier and cheaper to maintain compared to diesel engines because it has fewer moving parts and does not require periodic maintenance like engine filter replacements, oil changes, or injector replacements.
Sara K. Loebis, Corporate Secretary of United Tractors, stated that UT will continuously innovate and actively contribute to minimizing negative environmental impacts and gradually achieving a carbon-free Indonesia. Additionally, UT will continue its efforts to develop and utilize technologies that can reduce carbon emissions, including utilizing electric energy in industrial activities.
"As a company engaged in heavy machinery sales for the industry, UT has a special concern for environmental issues as part of the implementation of Environmental, Social, and Governance (ESG) initiatives. Therefore, the presence of the New 20 Ton Class Electric Excavator is a manifestation of the company's commitment to developing environmentally friendly products," said Sara K. Loebis.
During the same occasion, Etot Listyono, Head of Marketing Division at United Tractors, expressed UT's ongoing support for environmentally friendly technology products offered by Komatsu. "The New 20 Ton Class Electric Excavator is intended for use in various sectors such as coal and mineral mining, including nickel, gold, tin, and bauxite, as well as construction work. Currently, the New 20 Ton Class Electric Excavator is still undergoing market research in Indonesia," said Etot Listyono. It is hoped that the presence of this product will contribute to reducing air pollution and promoting a positive impact on the ecosystem for the Indonesian society.
Mining Indonesia 2023 is a regular exhibition organized by PT Pamerindo Indonesia, the largest international-scale mining equipment exhibition in Asia that showcases all the needs of the mining industry, including heavy machinery. In this exhibition, UT will not only showcase heavy machinery and trucks but also present the latest technology from renowned brand products it represents, such as Komatsu, UD Trucks, Scania, Bomag, and Tadano.
United Tractors' Overview
PT United Tractors Tbk (UT), known as Indonesia's largest heavy equipment distributor, has been established since 1972. UT has grown and has five business pillars: Construction Machinery, Mining Contracting, Mining, Construction Industry, and Energy , as well as its contributions to achieving Sustainable Development targets (SDGs). UT consistently carries out activities to uphold sustainability.
ESG United Tractors
As a world-class heavy equipment, mining, and energy company with more than 50 years of experience in Indonesia, UT is committed to presenting a sustainable future for Indonesia through the effective application of ESG principles by paying attention to the environment, having a good impact on society, and upholding good corporate governance. good corporate governance at all levels of its business operations and optimizing its competencies, expertise, and strategic assets to bring added value to all stakeholders and the Indonesian people.
For more information, please contact:
Etot Listyono
Marketing Division Head PT United Tractors Tbk
Email: etotl@unitedtractors.com
Telp. 021 – 2457 9999
Sara K. Loebis
Corporate Secretary PT United Tractors Tbk
Email: sarakl@unitedtractors.com
Telp: 021 – 2457 9999