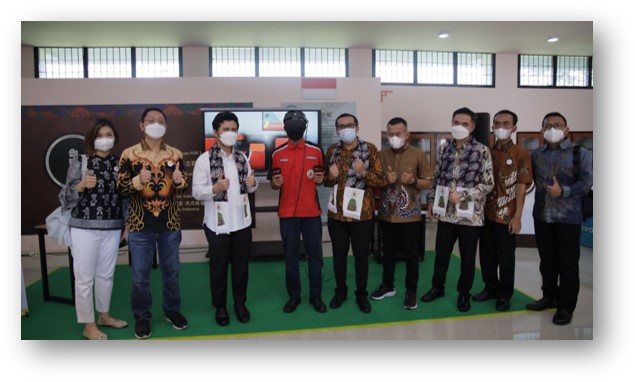 On Thursday, May 12th 2022, the Astra Group National Showcase Kick-Off was held at SMK PGRI 2 Ponorogo. The event was attended by Dr. H. Emil Elestianto Dardak, B.Bus., M.Sc as Vice- Governor of East Java; Wikan Sakarinto, ST., M.Sc., Ph.D. as General Director of Vocational Education, Ministry of Education, Culture, Research and Technology; H. Sugiri Sancoko, SE., MM. as the Regent of Ponorogo; Triyanto as Head of Social Engagement Astra and Astra Group representatives.
At the event, Himawan Sutanto as UT CSR Manager, presented Virtual Reality (VR) Preventive Maintenance Hydraulic Excavator PC200- 8M0 to SMK PGRI 2 Ponorogo as a form of appreciation for its achievement as one of the chosen schools for Astra Group National Showcase. VR Preventive Maintenance is an innovation created by UT School to support the effectiveness and digital-adaptive learning process of Heavy Equipment Technicalities.
The selection of Astra Group National Vocational School Showcase was carried out through a long process and was attended by around  3,000 Astra Group-assisted Vocational Schools (SMK BISA). Based on Astra Group assessment of SMK BISA in 2021, 15 SMKs were selected for final. The final session was conducted in early 2022 and selected two vocational schools as Astra Group National Showcase. The two schools are SMK PGRI 2 Ponorogo and SMK Muhammadiyah 1  Kepanjen.
Through Astra Group National Showcase, the chosen SMKs are expected to serve as model for excellent link and match program that could produce quality graduates.