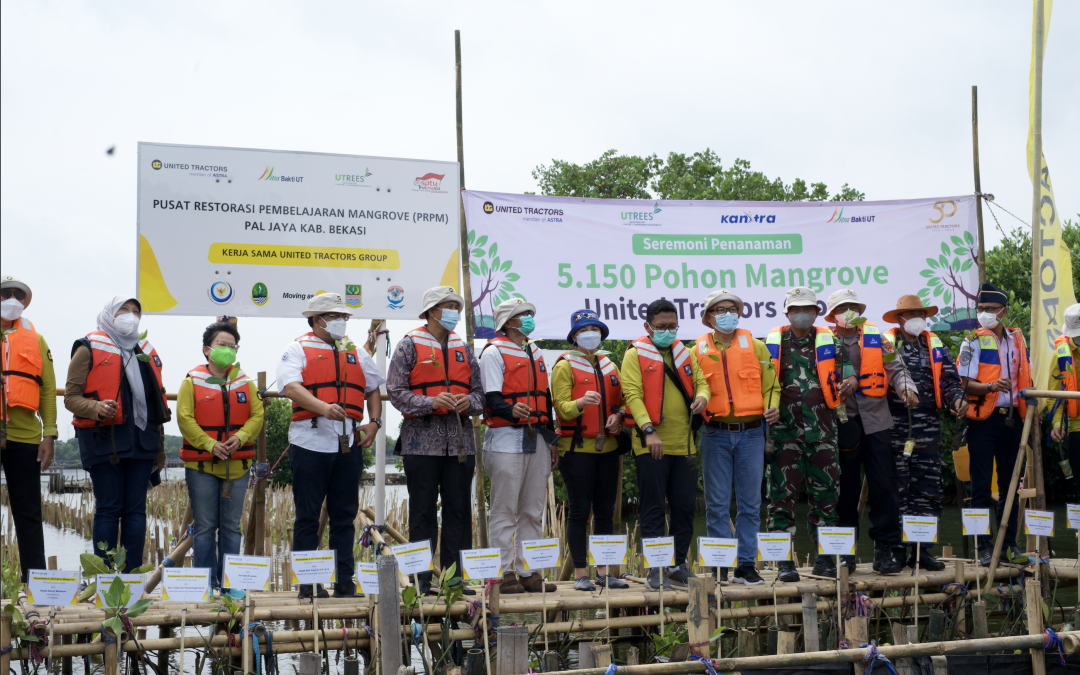 Jakarta – Saturday, March 19, 2022 UT Head Office in collaboration with PT Mitra Bakti United Tractors (MBUT) and PT Kanitra Mitra Jaya Utama (Kamaju) carried out 5,150 mangrove trees planting in Muara Tawar. This cultivating activity is the first step towards the targeted 50,000 trees planting to commemorate UT's 50th Anniversary.
This event was attended by Government Office of Marine Management, office of Environment and office of Fishery, then symbolically opened by Mrs. Sara K. Loebis as the Head of the Corporate, Governance and Sustainability Division of UT and Mr. Muhammad Yusuf as Director of Coastal and Small Island Utilization.
The purpose of this planting is to preserve and improve the quality of environment in supporting areas around Jakarta which also part of UT's CSR program in the conversion and reforestation-based environment.
The ceremony was attended by participants from UT, MBUT, Kanitra and invited representatives from government offices. The ceremony event was held in accordance to health protocols.
United Tractors at a Glance
PT United Tractors Tbk (UT) which is known as the largest heavy equipment distributor in Indonesia has become a public company and has been established since 1972. Currently UT has grown and has six business pillars, namely Construction Machinery, Mining Contracting, Coal Mining, Gold Mining , Construction and Energy Industry. As UT's commitment to realizing ESG implementation and contributing to the achievement of Sustainable Development targets (SDGs), UT consistently implements social responsibility programs in the fields of education, health, environment, community economic development and disaster emergency response.
For further information, please contact:
Sara K. Loebis
Head of Corporate Communication Division
PT United Tractors Tbk
Email     : ir@unitedtractors.com
Alamat  : Jl. Raya Bekasi Km.22 Cakung, Jakarta Timur 13910
Telp.      : (62-21) 3511961, Fax : (62-21) 3441413
Medsos : IG (@unitedtractorsofficial & @ceritadiut)
Website: www.unitedtractors.com